In Loving Memory of Mario
A TRIBUTE TO MY BEST FRIEND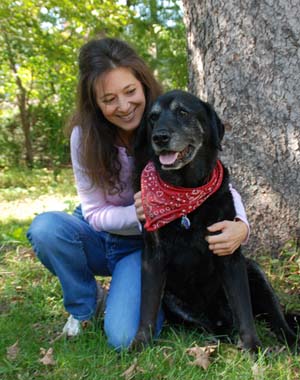 Mario touched my life in so many ways, I could write a book about all he taught me and all the wonderful memories.
He was my Forever DOG and truly the best dog and the best friend I've ever had! It's true about Shelter Dogs; "Who rescued who???" Mario definitely rescued me! He was the most selfless & compassionate animal soul; more concerned about my well being than his own. I adopted Mario from a shelter in 2001, he about a year & half old. They said they found him wandering around with a rope around his neck & they didn't know anything about his background. All I knew was that he was shy & scared! And after I adopted him he was quickly transformed into a caring, confident member of my family! I always knew he was a diamond in the rough! The love he gave and his good nature was too good to be true! I just loved him and he gave back so much more! I wanted to share this kind soul with others who were less fortunate and decided to get Mario certified to be a 'Pet Therapy' dog. He visited a facility for troubled children who enjoyed playing ball with Mario.
As he slowed down he would also visit hospice patients and brought smiles to their faces! Mario always enjoyed playing with his soccer ball and swimming. When he was 10 he injured his back while retrieving his ball and he had to retire from Pet Therapy. Although arthritis was tough on his body, he never became grumpy. He still continued to enjoy life; laying outside in the grass, smelling the scents was fine for him! And of course spending time with me always made him happy! By my side always; sitting with me while I painted; his tail constantly wagging! Up until the day he passed, he was a very brave dog and so very stoic. Such a 'Happy Go Lucky' guy! I will never forget how much you loved life & you loved me!
I miss you Mario, there will never be another like you! ♥ You are in my heart ♥ ALWAYS & FOREVER! xoxoxo
DALTON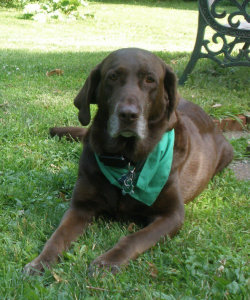 I wanted another lab for my dog Mario. We adopted Dalton from Labs4rescue, he came from Tennessee and was quite layed back. Even though he was young he didn't get too excited over much. The first day we met him he looked at us and looked at Mario and just went about smelling the grass and investigating the area. Very different kind of dog….maybe he wasn't socialized as a pup. Didn't play too much, even toys didn't mean anything to him. He liked to chew stuffed animals and he had many of those! But what he loves is food! I remember when we moved into a new home he wandered off from our Memorial Day cookout before we put a fence in. We found him running from the neighbors house with a hamburger in his mouth; he stole it right off their plate! He couldn't be trusted around food! And he is so TALL that he can his chin on the kitchen table! One thing he does love is the water! Sneaking out of our cottage in Maine; he raced to the lake  just to swim a few laps around some boats! Even up until now; at 13 and with arthritis he was swimming in a Lake in VT during the summer. He was so very happy. It doesn't take much to make Dalton happy, as long as you feed him and take him for rides he will be happy!
CORRIE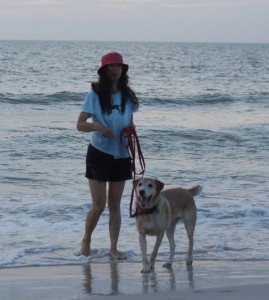 Our latest addition, Corrie, came from a family friend and just loves to play in the water! She loves people and other animals and is an all-around friendly girl. She finds pleasure in the simplest things–chasing cats, playing with her tennis ball and new friends at the dog park. She makes funny sounds, and even grunts like a pig! She came to us almost a year after Mario left us and I really wasn't ready for another dog in my life. Although she is different than Mario and Dalton, I have really come to bond with her own unique spirit. She is the first lab to come to Florida with me and she is enjoying herself, especially walking around the lake or at the beach. Looking forward to many more years with Corrie!