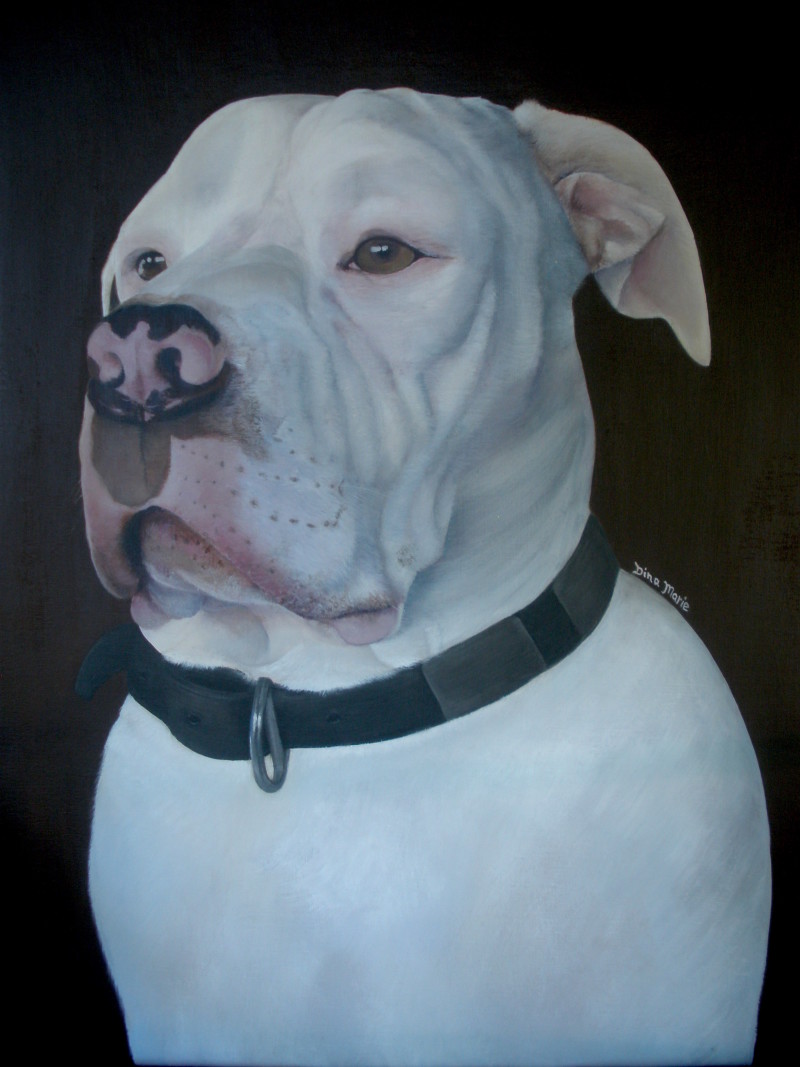 "How do I commission a Pet Portrait?"
Send me Photos & decide which photo to use
I paint directly from photographs; digital or actual photo. The quality of the photographs you send greatly affect the outcome and quality of your finished portrait. I can't stress the importance of the photographs; they need to be extremely clear and show great detail. A photo that shows the details of a pets face is preferred.Please send the best photos that represent your pet. My painting will look similar to the photo we choose; see sample. I want you to be happy with your portrait & we can discuss which photo would be best.

Email High resolution JPEGs OR
Mail copies of the actual photographs or a CD containing the images

If you're emailing the picture, please don't resize your photos because it will lower the quality (300 dpi is best). I need the highest resolution possible. All CDs and photographs will be returned when I complete your painting if requested.

Choose a Canvas size
Pricing is determined by the complexity of the painting. I listed the most common sizes that fit in a standard frame. Please contact me for a quote on a custom size.
Custom Pet Portrait Canvas Sizes and Prices
The following rates are based on approximate size with a solid background color.
All portraits are custom and prices vary.
*Art board is available in similar sizes for 15% less.
One Pet Portrait in Acrylic

Two Pet Portrait in Acrylic

Ripley and Geiger

 8 x 10″ – $350
9 x 12″ – $395
11 x 14″ – $495
12 x 12″ – $495
12 x 16″ – $550
16 x 20″ – $725
18 x 24″ – $850
*16 x 20″ – $825
*20 x 20″ – $1000
*18 x 24″ – $1200

Sizes for Portraits with multiple pets generally need a larger canvas depending on the size of pets. Contact me if you would like to consider a smaller size than those listed above.
Prices are for a solid background color. A scenic background can be painted for an additional fee, please contact me.
Portraits are painted with Liquitex Acrylic paint on a gallery wrapped canvas (no staples on the sides) or on Clay Art boards which are flat panels and a smoother surface than canvas. The results are the same for painting and I prefer to use the boards.
Prices do not include sales tax or shipping costs.
Local pickup is available.
If you are interested in setting up a consultation or would like a quote, please contact me.
Frequently Asked Questions:
"What kind of pets can you paint?"
I love & appreciate all animals and have painted many different types over the years; chickens, rabbits, horses, sheep etc. I would be happy to paint any animal and welcome custom paintings of wildlife. If you have a photo that would be great or I can use a generic photo of the animal.
"How long does a Pet Portrait take?"
You are ordering a custom painting which takes time and effort. Most paintings generally take 4 – 8 weeks depending on current commission workload. I work on a first come first served basis. If you have a specific date you would like your portrait completed, please contact me asap and I'll be happy to work with you. My goal is to paint a portrait that you are completely satisfied with.
Holidays seem to be my busiest time; so if you need a painting done for the Holiday please order ahead of time so I have plenty of time to get it to you!
I also offer GIFT CERTIFICATES to make it easier to give a Pet Portrait as a gift!
"Can I see my painting in progress?"
I will send you a photo of the final portrait for your approval before delivering but if you're interested in seeing how your painting is coming along, I can email you a photo during the painting process. Just let me know!
"Can you ship my Pet Portrait?"
If you are not local or can not pick up your painting then I will ship to you. Shipping charges are extra and the cost depends on your location. I promise I will package the portrait with great care. If you have any questions or concerns, please feel free to contact me.
"How do I pay for my portrait?"
A deposit of 50% is due before I begin your portrait. Once all the details are decided upon I will email you an invoice. You may pay through Pay Pal. The balance is due upon completion of the portrait.
"Should I frame my portrait?"
Your painting does not come in a frame; however if you would like it framed my canvas sizes are standard so you can easily frame the painting yourself (without a mat or glass). I do paint the edges if you choose not to frame the painting.
For the best results I recommend bringing your painting to a good quality frame shop.
I own all copyrights to the artwork and content on this website, as well as all commissioned work. Although you may own the finished painting, I ask that you not reproduce any of my work without written consent.
OTHER INFO: Your name, e-mail, phone number, address and any other private information will never be shared with anyone else. Only your name will appear in any testimonial I may ask of you, and only with your consent. All finished paintings will appear on my gallery pages of this website.